[Tobisho] Pruners SR-1 (200mm)
[
TBS010101
]
[Tobisho] Pruners SR-1 (200mm)
[
TBS010101
]

Our Selling Price: 9,350JPY (not include VAT & TAX)
This SR-1 is larger than the SR-2.
SR-1 is the pruning shears. This is made from high grade cutting steel (Yasuki YSC-3). TOBISHO succeeded to the improvement of a durability rise, the weight saving, the tough rise, and the grip fitting. The amount of content carbon of steel is 1%. The whole body was forged by high grade cutting steel.
In order to harness the characteristic of steel to the utmost, I have taken all possible measures also against heat treatment, such as an electric furnace of hardening by Spheroidizing of an organization, wet grinding with little decarbonization, and automatic control, and annealing.
Moreover, since the Specially designed was performed in building this new product, it is the grip which does not get tired easily in prolonged use.
The main use
Pruning of a tree and a fruit tree.
For Agriculture, Gardening, production of a Japanese garden ,etc.
It will be necessity about three business day to send.
About a maker, TOBISHO (YAMAGATA pref)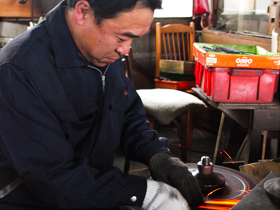 Tobisho is a blacksmith in 200 or more at history. The number of masters is the 8th. In pruning shears, it is the 2nd.
The blacksmith town in Yamagata was built by Yoshiaki Mogami. He is a samurai. Therefore, Yamagata was set to one of the producing districts of a Japanese sword. Then, in Yamagata, since production of the fruit tree prospered, the technology of pruning shears developed.
Also in it, Tobisho has original heat treatment and gloss technology, and is very famous in pruning shears. Many agriculture and the specialist on a gardener are using it.
The notes on use about Pruners SR-1 (200mm) [TOBISHO]
* Please do not twist.
* please do not drop
* Please do not use it for any purpose other than wood branch.
* It rusts for a steel part. Please wipe after use well.
* Pleasey a whetstone, if it becomes difficult to cut.
* If edged tool oil is applied, it will last long more.
| | |
| --- | --- |
| Producing district | Yamagata, Japan [TOBISHO] |
| Handedness | righthand |
| Full Length | 200 mm =7.84 inch |
| Edge length | 60 mm =2.36 inch (From the center of a bolt to the edge of a blade) |
| Edge material | YCS-3 (Yasuki, Hitachi steel) |
| Handle material | YCS-3 (Yasuki, Hitachi steel) |
| Goods weight | 250g |
| Packing weight | about 350g |