[Tobisho] Karikomi Shears (SYOJIRO , Yamagata type)
[
TBS020101
]
[Tobisho] Karikomi Shears (SYOJIRO , Yamagata type)
[
TBS020101
]

Our Selling Price: 47,500JPY (not include VAT & TAX)
This Karikomi Shears is Y-character type and Curved edges type.
Y-character type is the Karikomi Shears of a kind with which an edge does not cross. That is, they are the Karikomi Shears for beginners as well as Karikomi Shears with a stopper. Therefore, there is no failure which sandwiches a hand. However, the Karikomi Shears for professional also exist like SYOJIRO of TOBISHO.
The Karikomi Shears with which the edge has curved are fit for finish of the field. If it is slide finely, a smooth field and a spherical field can be fabricated at will.
Anyhow, please be surprised at cutting capability. This Karikomi Shears is so amazing and offer wonderful experience. Trees could be modeled in satisfactory form, when you have skill. TOBISHO trains steel very much and is manufacturing this Karikomi Shears. It did not consider profiting but poured in material, technology, and time and effort unstintingly.
Therefore, only tens Karikomi Shears can be manufactured in one year. Also in Japan, they are the Karikomi Shears which cannot be obtained easily. Beginners can use this Karikomi Shears (SYOJIRO , Yamagata type) and this is loved by many professional gardeners. It is because cutting capability is excellent.
The main use
Cutting of a tree and a fruit tree leafs & branchs. Please keep in mind this edges is slightly thin.
For Agriculture, Gardening, production of a Japanese garden ,etc.
After receiving an order, in order to produce, it will be necessity about ten days to send.
About a maker, TOBISHO (YAMAGATA pref)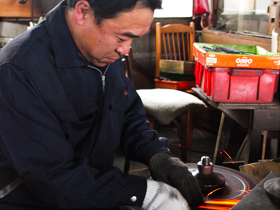 Tobisho is a blacksmith in 200 or more at history. The number of masters is the 8th. In pruning shears, it is the 2nd.
The blacksmith town in Yamagata was built by Yoshiaki Mogami. He is a samurai. Therefore, Yamagata was set to one of the producing districts of a Japanese sword. Then, in Yamagata, since production of the fruit tree prospered, the technology of pruning shears developed.
Also in it, Tobisho has original heat treatment and gloss technology, and is very famous in pruning shears. Many agriculture and the specialist on a gardener are using it.
The notes on use about Karikomi Shears (SYOJIRO , Yamagata type) [TOBISHO]
* Please do not twist.
* please do not drop
* Please do not use it for any purpose other than wood branch.
* It rusts for a steel part. Please wipe after use well.
* Pleasey a whetstone, if it becomes difficult to cut.
* If edged tool oil is applied, it will last long more.
| | |
| --- | --- |
| Producing district | Yamagata, Japan [TOBISHO] |
| Handedness | righthand |
| Full Length | 705 mm =27.76 inch |
| Edge length | 165 mm =6.50 inch (From the center of a bolt to the tip of edges) |
| Edge material | Yasuki steel, Blue Paper steel |
| Handle material | Magnolia obovata (Length : 445mm) |
| Goods weight | 685g (with case 780g) |
| Packing weight | about 2000g (with edge case and shipping box, Including the difference in volume weight ) |