Kiribashi 220mm (8.66inch) White paper steel, Kyoto style, Right hand, for Professional & General
[
KNT090302
]
Kiribashi 220mm (8.66inch) White paper steel, Kyoto style, Right hand, for Professional & General
[
KNT090302
]


Our Selling Price: 36,300JPY (not include VAT & TAX)
* Can't use this scissors suddenly. If you don't know how to hold it, don't buy it.
* If it is out of stock, it will be made to order. Please feel free to contact us. In most cases, it can be delivered in about one month.
This scissors is completely special. Because of its unique shape in Kyoto, it can only be used by gardeners who have trained in Kyoto basically.
・ If you don't know how to hold it, don't buy it.
・ We will not accept returns, etc. at our expense except for obvious initial defects.
・ It is really difficult to master. In fact, I can't use it cleanly either.
It is a pair of scissors that you can experience Japanese tradition. The culture of the Japanese garden has developed along with the history of Kyoto. In other words, the scissors in Kyoto are the symbol that has supported the traditional Japanese gardening. The manufacturer of this scissors, Kanetaka, is a blacksmith with a history of over 350 years in Kyoto. If you want to equip the Japanese garden tradition, Kanetaka will be one of the leading options.
This Kiribashi 220mm (8.66 inch) is a pair of scissors actually used by professional NIWASHI (Japanese professional gardener). It is highly rigid and is manufactured optimized for cutting tree branches. Kyoto's tools have been developed through dialogue with customers. The spirit is inherited by this scissors, and various minor changes are repeated to reach the current shape.
The setting is exclusively for professionals and experienced people. It is a little soft than Kiribashi, a blue paper steel manufactured by Kanetaka, to make it easier to use. And because it is white paper steel, it is easy to sharpen. The fulcrum and looseness are also reduced. However, it is certainly difficult for beginners to use. Not suitable for gardeners who move their hands unnecessarily when cutting.
* If the blade is chipped while using this scissors, there is almost no possibility that the product is responsible. We always inspect it before shipping. This scissors is so special that I have to write this notice. Young Japanese gardeners can use these scissors while making many mistakes (chips, drops, misuse, etc.).
These scissors are manufactured with particular attention to the sound of cutting. When the lower part of the handle fits when you cut through, the characteristic sound of hitting an iron rod will reverberate around you. People in the area understand that you are pruning. In traditional Japanese culture, there is a culture that uses the five senses to imagine who is doing what, even if they cannot be seen.
*Shape
There are styles of traditional Japanese gadening of Kyoto scissors. Manufacturer Kanetaka, who has a history of more than 350 years, belongs to the Kyoto Hamono Association and is working on the protection and tradition of this traditional scissors.
* Characteristics of these traditional Kyo style scissors
What surprises everyone is the a little looseness of fulcrum. However, this is the greatest feature of the Kyo style and Kiribashi, which has a long history. When cutting, it is used by grasping it so that the gap between the blades does not open, but by that action, fulcrum changes its shape according to the habit of the person's hand. This is called "scissors grow". It will become a pair of scissors with your own habit.
* A normal product of this is one with wobbling in fulcrum. After purchase, please do not retighten by yourself.
*material
The blade is made of Yasuki white paper steel. It is characterized by being little hard. Hard iron is used for the handle. Therefore, even if you cut a hard tree, it will not bend easily.
*Production method
They use a belt hammer and a grinder, but they make it entirely by hand. In particular, forge welding, forging and sharpening have a high level of finish that is possible only because of human work.
The main use

Pruning branches.
About a maker, KANETAKA (Kyoto pref)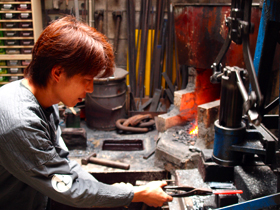 A store and a factory are in front of the head family of the flower arrangement "Ikenobo" which is proud of the membership maximum by the oldest, and the birthplace. Also only by record remaining, it is a long-established store of seven generation at 200 years (History as a blacksmith is over 350 years). Mr. Kazuhiro Yamada of the eldest son inherited Master of sharpen, and Mr. Yoshitaka Yamada of the second son has acted as the blacksmith craftsman.
. Traditional products, such as a Japanese razor, the Ikenobo scissors, etc. which learned the method of making from an expert, are made from KANETAKA. In addition to them, idea goods, such as a herb clip, a pencil sharpener, and a knife that deletes the reed of a wind instrument, are also produced broadly.
The notes on use Kiribashi [KANETAKA]
* Please do not twist.

* please do not drop

* It rusts for a steel part. Please wipe after use well.

* Pleasey a whetstone, if it becomes difficult to cut.

* If edged tool oil is applied, it will last long more.
| | |
| --- | --- |
| Producing district | Kyoto, Japan |
| Handedness | Right |
| Full Length | 220mm = 8.66 inch |
| Edge length | 60mm = 2.36 inch (From the tip of the blade to the fulcrum ) |
| Edge material | Yasuki, blue paper steel |
| Handle material | Iron |
| Goods weight | 250g |
| Packing weight | 350g |