[Tobisho] Topiary shears 270mm (Double and warpage blade)
[
TBS010201W
]
[Tobisho] Topiary shears 270mm (Double and warpage blade)
[
TBS010201W
]

Our Selling Price: 13,750JPY (not include VAT & TAX)
Features of Topiary shears 270mm (Double and warpage blade)
Only products with a total length of 270mm are available.
For right-handed users only.
Shears feel lighter than anyone look and are easy to handle. (According to Tetsufuku research)
Double blade is suitable for trimming leaves not for branches.
Warpage blade is suitable for trimming to create a curved finish.
Manufactured specifically for leaf trimming. Not suitable for cutting branches with a diameter of 2 mm or more.
Common uses are trimming hedges and bonsai.
About Topiary shears 270mm (Double and warpage blade)
By using these shears, you can trim hedges with just single hand. You can use your free left hand to control branches or hold something like a ladder to support your body.
Among them, double-edged blades are made specifically for trimming leaves, while warpage blades are suitable for trimming to create a curved finish. This product is set up for use by right-handed people. Tobisho has designed shears that are less tiring from the design stage. Specifically, they succeeded in reducing weight by removing steel from areas that do not affect strength, and by adopting a structure that prevents the handle from opening too much, they have created shears that can withstand long-term use by users. It has received high praise from professional gardeners as it does not cause fatigue even when doing a lot of trimming.
At 300g, it is about 50g heavier than other standard pruning shears, but in addition to the above ideas, we have taken into account the overall center of gravity and balance, so it does not feel as heavy as it looks and is very easy to use. Please try it !
*Red and yellow vinyl tape is standard handles. Black finish is not available.
Shipping and ordering information
If the item is in stock, it will be shipped within 3 business days. We usually ship the next day.
Please contact us if the item is out of stock.
About Tobisho, the blacksmith who manufactured this product (YAMAGATA pref)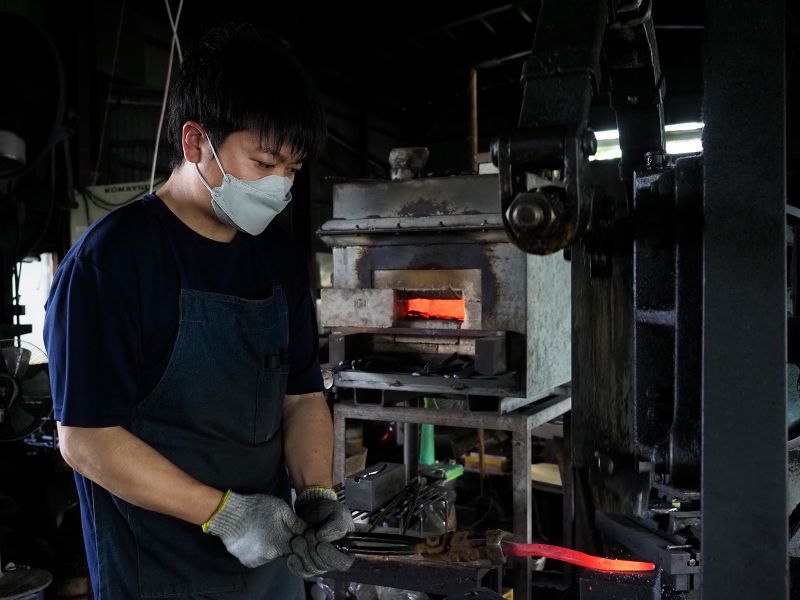 Tobisho is a long-established blacksmith in Yamagata, with 4 generations of pruning shears and 10 generations of blade smith since 1803. Yamagata Prefecture has been one of Japan's leading fruit producing regions since 1875. Syojiro Tobitsuka, the first pruning shears smith who founded Tobisho, started producing shears for use in orchards and sericulture around this time. Through ingenuity and effort, the performance has continued to improve from generation to generation, and as a result, it has come to be used by professional gardeners due to its sharpness. The unique heat treatment and gloss technologies that characterize Tobisho today are the result of their accumulated experience. The current master blacksmith, Daiki Tobitsuka, has a manufacturing philosophy of "It's natural to cut well, but on top of that, be simple and sturdy."
The notes on use about Topiary shears 270mm (Double and warpage blade) [TOBISHO]
* Please do not twist.
* please do not drop.
* Please do not use it for any purpose other than leaf trimming.
* It rusts for a steel part. Please wipe after use well.
| | |
| --- | --- |
| Producing district | Yamagata, Japan [TOBISHO] |
| Handedness | right-handed |
| Full Length | 270 mm =10.63 inch |
| Edge length | 125 mm =4.92 inch (From the center of a bolt to the edge of a blade) |
| Edge material | KA-70 (KOBELCO) |
| Goods weight | 300g |
| Packing weight | about 370g |