[MINAMOTO-IZUMIMASA] Paring knife 180mm Sweden steel
[
MIM163402
]
[MINAMOTO-IZUMIMASA] Paring knife 180mm Sweden steel
[
MIM163402
]
Our Selling Price: 14,000JPY (not include VAT & TAX)
These are paring knife which supplied technology of MINAMOTO-IZUMIMASA. Due to the introduction of high technical grinding, this has excellent art of the cutting, and it is the finish very beautiful.
Paring knife 180mm is quite large size. This is the best kitchen knife to the preliminary arrangements of cooking. In addition, You can cook meat and fish. Please not cut the hard thing so this have a thin blade. If you have a skill of cooking, you can make simple cuisine with just this knife. It is the kitchen knife that everyone want to have one.
These are using the Sweden stainless steel full body of the blade. For the content of the sulfur component is low, these chef knives have a good reputation around the world as steel very nice. It is stainless steel is hard to sharpen in general, and difficult to make a sharp knife. However, the MINAMOTO-IZUMIMASA is excellent in polishing technology and forging technology, they have succeeded in manufacturing this revolutionary chef knives.
After receiving an order, in order to produce, it will be necessity about 3 weeks for longest to send.
Product List of MINAMOTO-IZUMIMASA's chef knife & paring knife
Product name
Edge material
Base material
Finish
Handle material
Japanese chef knife (Gyuto) [Pro]
Sweden stainless steel
Polishing for stainless
Octagon / Magnolia
Japanese paring knife [Pro]


(This product)

Sweden stainless steel
Polishing for stainless
Octagon / Magnolia
Chef knife (Gyuto)
V10 GOLD (Stainless)
Polishing for stainless
Integrated Rosewood
Paring knife
V10 GOLD (Stainless)
Polishing for stainless
Integrated Rosewood
About a maker, MINAMOTO-IZUMIMASA = Matsuo edges factory ( SAKAI, OSAKA pref )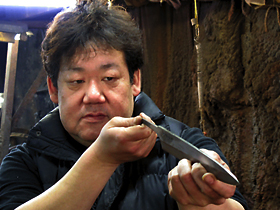 MINAMOTO-IZUMIMASA is a brand name of Matsuo edges factory that is in SAKAI, OSAKA pref. Sakai is a kitchen knife producing area famous in the world. Among the factory of the Sakai, technology MATSUO edges blacksmith is especially good. Prominent cutlery store in Japan is coming to purchase a large number. Therefore, It is a blacksmith and grinder that is selected to chef of Japanese cuisine.
The top of master name is Yoshiaki Matsuo (photo). His skills gained from long experience are used in high-grade products. Kyohei Matsuo and Tsubasa Matsuo are Yoshiaki's cousin. They are also masters of kitchen knife griding.
* MATSUO edges factory has still a repertoire of size and material. If you want another material or another size, please let me know your request.
The notes on use about Paring knife 180mm Sweden steel [MINANMOTO-IZUMIMASA]
* Please do not twist.
* You can cut vegetable and fruits, anything other than hard. (For example, other than bone)
* It rusts for a steel part. Please wipe after use well.
* Please grind with a whetstone, if it becomes difficult to cut.
* If edged tool oil is applied, it will last long more.
| | |
| --- | --- |
| Producing district | Sakai, Japan [MINAMOTO-IZUMIMASA = MATSUO edges factory] |
| Handedness | righthand |
| Full Length | about 310mm = 12.20 inch |
| Edge length | 180 mm =7.09 inch |
| Material | Sweden steel |
| Edge material | Sweden steel |
| Handle material | Magnolia |
| Goods weight | 70g |
| Packing weight | 175g |