[KONDO] Bishan, coarse finish hammer (16 Carbide bits)
[
KMF020101
]
[KONDO] Bishan, coarse finish hammer (16 Carbide bits)
[
KMF020101
]
Our Selling Price: 27,500JPY (not include VAT & TAX)
Bishan is the masonry special hammer to use for coarse finish of the surface of stone or concrete. This 16 bits Bishan (coarse finish hummer) is suited coarse finish and it is possible to process stone to be tasteful.
Not only stonemasons and sculptors but also gardeners use it habitually,not to mention what is suitable for stone statue products, it to be just good finish for the staffage compositions such as building stones or japanese garden lanterns to use for the garden path.
Workability is good in comparison with the product only for steel markedly because carbide is installed on the tip of this bishan(coarse finish hummer), Japanese professional stonemasons use it habitually in particular.
There are an assortment of tools from 16 bits(2*2) to 64 bits(8*8), and this is a product of 16 bits(4*4). The fewer bits, the coarser finish, and the more bits, the finer finish.
The main use
Various processing stone of stonemasons, sculptors, and gardeners (coarse finish of the surface of stone).
For Art (Sculpture), Architecture, Landscape design, Garden, Repair the ruins ,etc.
It will be necessity about five business day to send.
About a maker, Kondo Masonry tools factory (AICHI pref)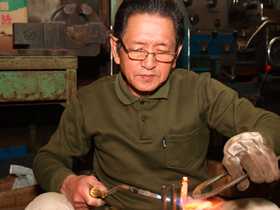 This Bishan (coarse finish hammer, 16 Carbide bits) is made in Japan. It is product of Kondo stonemason's tools factory in Okazaki City, Aichi Pref known as a town of the stonemasons. Yoji Kondo is the boss and the second of Kondo stonemason's tools factory, and he is an expert that has been worked for 50 years. He is known to Japanese craftsmen handling stones as one of stonemason's tools makers of carbide who are few in Japan now. His technique of brass brazing is highly valued because it is rare technique not only in the world but also in Japan.
The notes on use about Bishan, coarse finish hammer (16 Carbide bits) [KONDO]
Hammer a stone softly, rhythmically and vertically by all means. The properties of steel and carbide is superior in wear resistance and it is the harder, the more fragile. Conversely, soft steel and carbide are superior in durability and shock resistance. This product has been setting hard condition, if you wield or hit strongly, there is a possibility that brass brazing will break. In addition, it is a main factor of breaking to hammer a stone diagonally. Please hammer a stone vertically by all means. The Japanese craftsmen using our product habitually know this point well enough, but we would like overseas users to keep it in mind.
| | |
| --- | --- |
| Producing district | Okazaki, Japan [KONDO stonemason's tools factory] |
| Handedness | both (righthand & lefthand) |
| Bits size | 6mm*6mm = 0.24 inch*0.24 inch |
| Base size | 40mm*40mm = 1.57 inch*1.57 inch |
| Material | Tip : Carbide Body : Steel Junction : Brass brazing |
| Handle material | Oak |
| Goods weight | 1650g |
| Packing weight | About 1700g |