[Sasaoka] Pin-Stopper Karikomi Shears (White Paper Steel No.2) Tetsufuku Variant
[
SSK020101
]
[Sasaoka] Pin-Stopper Karikomi Shears (White Paper Steel No.2) Tetsufuku Variant
[
SSK020101
]

Our Selling Price: 19,800JPY (not include VAT & TAX)
* It will be necessity about 7 business day to send.
* for Right handed
* with stopper
Pin-stopper is a with stopper Variant.

Features of Sasaoka Pin-stopper pruning shears
The length of the blade from the tip to the riveting is about 195mm, which is the standard length of Karikomi shears for Japanese professionals. The handle is about 450mm long and the material is oak. The total length is 700 mm and the weight is about 965 g. They are a normal size about professional Karikomi shears from other manufacturers.
The material of the blade is White Paper Steel No.2. As you know, hardness = sharpness is attractive for steel, but the more hard it is, the more brittle it becomes. Please use it only for trimming leaves like box clipping or cloud pruning. We recommend using clippers or saws to cut branches thicker than a few millimeters.
Bolts are used for caulking. When the bolt comes loose, you can easily tighten it, but be careful not to overtighten. The surface of the blade has a black finish. Perhaps you feel the handcrafted goodness in this finish.
The main use
box clipping or cloud pruning
About a maker, Sasaoka (Kochi pref)
Sasaoka Hsami Factory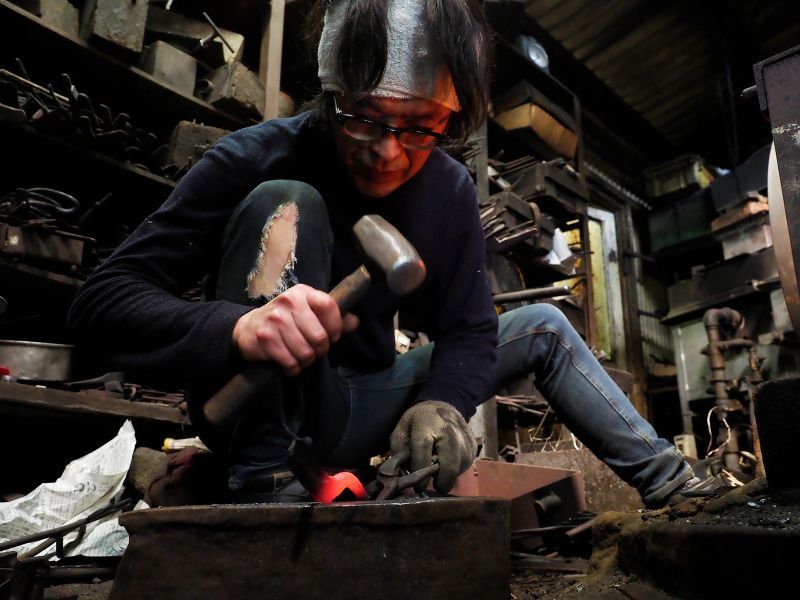 cap : Satoru Sasaoka in Sasaoka Hasami Factory / Photo by Hiroshi Urata, copyright : The 庭NIWA magazine

Eiji Sasaoka, the first generation, and Satoru Sasaoka, the second generation, are the only Hasami Blacksmiths in Tosa (Hasami means clippers, scissors, shears, pruners, secateurs, etc). According to Mr. Satoru, "The Mr. Eiji has a strong spirit of challenge and has great skills. And I think that my characteristic is to work carefully." In fact, the Hasami of Sasaoka that the two of them produce are a collaboration of skill and politeness. Looking at the mallet marks and sharpening marks, you can feel the warmth of handmade. On the other hand, when you actually use it, it cuts smoothly. The Hasami and knives in particular are carefully hand-sharpened, so the blades are very beautiful.
Another feature of Sasaoka Scissors Manufacturing is that they can produce a wide variety of cutlery and tools using scissors as their basic technology. At the age of 24, Mr. Eiji set up a blacksmith factory here in Ino City, Kochi Prefecture, but when he was making Hasami, neighbors asked him to make kitchen knives and farming tools. Mr. Eiji, who has a strong spirit of challenge, quickly expanded the product categories of Sasaoka.
* inscription
The character "英" used in the inscription is derived from Eiji's name.
*Main products
Garden scissors, Kiribashi, Earthenware, Bonsai tools, kitchen knives, agricultural tools (scythes, plows, hoes, etc.)
*location
Ino City, Kochi Prefecture
The notes on use about Sasaoka Karikomi Shears (Mon-Gata)
* Please do not twist.

* please do not drop

* Please do not use it for any purpose other than cutting leaves and triming.

* It rusts for a steel part. Please wipe after use well.

* Please use a whetstone, if it becomes difficult to cut.

* If edged tool oil is applied, it will last long more.
| | |
| --- | --- |
| Producing district | Kochi, Japan [Sasaoka] |
| Handedness | righthand |
| Full Length | 700 mm =27.56 inch |
| Edge length | 195 mm = 7.68 inch (From the center of a bolt to the tip of edges) |
| Edge material | Yasuki steel, White Paper steel |
| Handle material | Oak (Length : 450mm) |
| Goods weight | 965g |
| Packing weight | about 1480g (with edge case and shipping box, Including the difference in volume weight ) |