[Tobisho] Pruners HIRYU (Left handed)
[
TBS011301L
]
[Tobisho] Pruners HIRYU (Left handed)
[
TBS011301L
]

Our Selling Price: 42,570JPY (not include VAT & TAX)
This pruners are left handed with red and yellow taped edition.
***What is the difference HIRYU and HIRYU alpha.
Blades are common. Grip is different. It diference is the end of grip. HIRYU has normal straight handle. But Hiryu alpha has carve in the end of grip. This is a little crooked on the outside.
Some people like the curve handle. Because they feel non-slip.
Some people like the normal handle. Because they feel straightforward.
Which is not to say that good, it is divided in users.
***about HIRYU and HIRYU alpha.
A Japanese blacksmith is the special pruning scissors which carried out handmade. Before, Scissors which are not tiring even if it uses for a long time were wanted. and more sharp scissors were also called for. TOBISHO the specialist of scissors completed the scissors which respond to this voice. It is this product.
The greatest feature of HIRYU is that 2 edges do not contact. A wooden branch is cut because 2 edges move circularly.
In order that 2 edges might not contact, resistance decreased greatly. With the form of an edge, an edge invades into a wooden branch easily. Since the blade is sharpened until it becomes like a mirror, it is smooth.
Four grease holes are designed around the screw. Since grease is supplied to the degree of cutting at a joining section, he promises an always smooth motion. Since decrease of a screw is delayable, shakiness will be suppressed in the future.
Inside a handle, there are 2 springs which decrease the shock accompanying opening and closing. They are a spring which decreases the shock at the time of finishing cutting, and a spring for opening a handle smoothly.
HIRYU became the scissors which can be said also as one conclusion of Mr. Yasuhito Tobiduka's blacksmith & craftman life.
Notes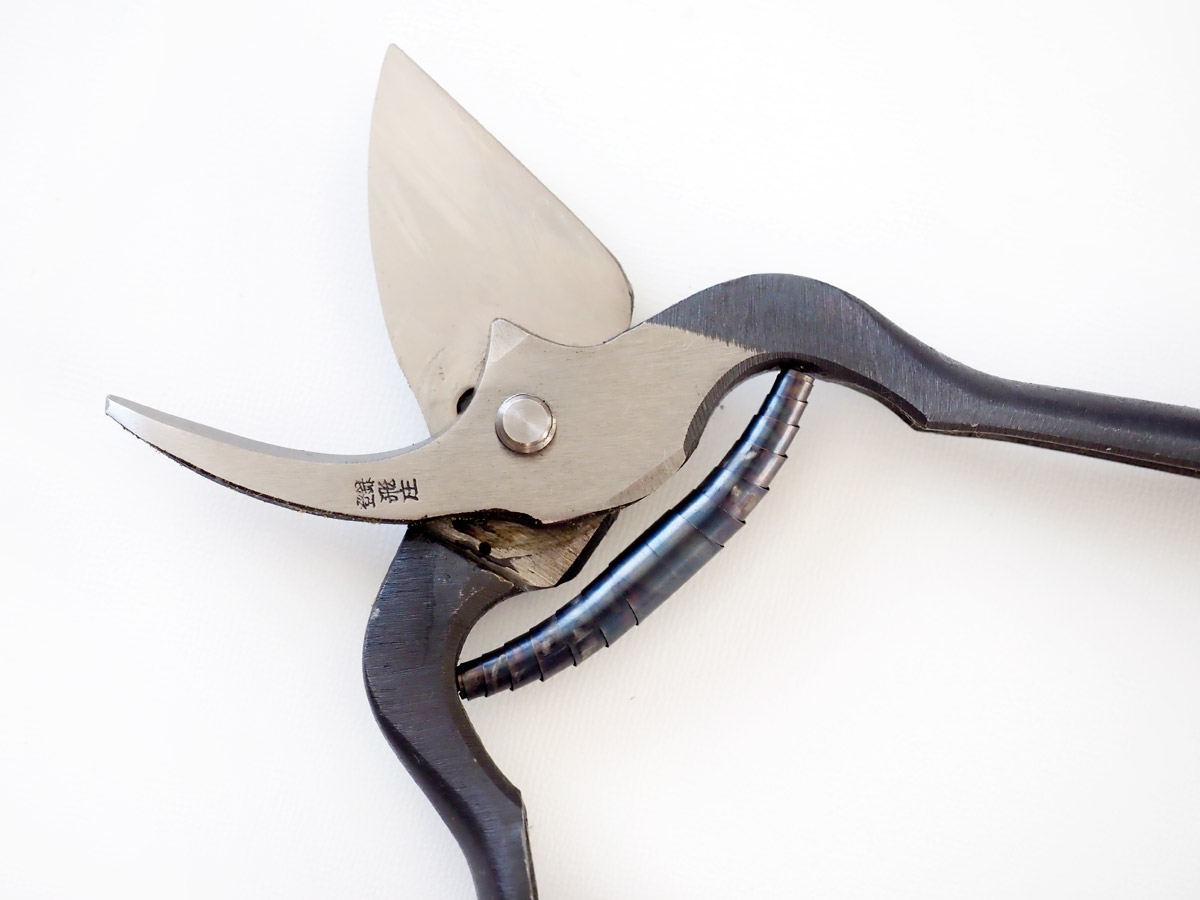 This is the back of a normal product. You can't find the bolt. But that's fine. This is a structure to reduce the thickness of the shears at all. This structure makes it easier for you to infiltrate shears into overgrown trees. The two shears do not split because the screw is cut in the opposite direction. Please be assured.
The main use
Pruning of a tree and a fruit tree.
For Agriculture, Gardening, production of a Japanese garden ,etc.
* It is wonderful when pruning a fruit tree and trees. But, in order that an edge may not contact, it is not suitable for turning off paper and the rope. Please use only for pruning of a tree.
It will be necessity about three business day to send.
About a maker, TOBISHO (YAMAGATA pref)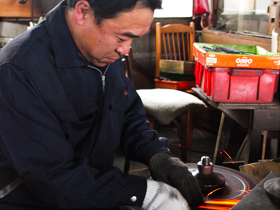 Tobisho is a blacksmith in 200 or more at history. The number of masters is the 8th. In pruning shears, it is the 2nd.
The blacksmith town in Yamagata was built by Yoshiaki Mogami. He is a samurai. Therefore, Yamagata was set to one of the producing districts of a Japanese sword. Then, in Yamagata, since production of the fruit tree prospered, the technology of pruning shears developed.
Also in it, Tobisho has original heat treatment and gloss technology, and is very famous in pruning shears. Many agriculture and the specialist on a gardener are using it.
The notes on use about Pruners HIRYU [TOBISHO]
* Please do not twist.
* please do not drop
* Please do not use it for any purpose other than wood branch.
* It rusts for a steel part. Please wipe after use well.
* Pleasey a whetstone, if it becomes difficult to cut.
* If edged tool oil is applied, it will last long more.
| | |
| --- | --- |
| Producing district | Yamagata, Japan [TOBISHO] |
| Handedness | left-handed |
| Full Length | 190 mm =7.48 inch |
| Edge length | 55 mm =2.17 inch (From the center of a bolt to the edge of a blade) |
| Edge material | YCS-3 (Yasuki, Hitachi steel) |
| Goods weight | 235g |
| Packing weight | about 350g |