[KISUKE] Santoku (chef's knife about 165mm brade, ATS-34 stainless / stainless Warikomi, Red sandalwood Handle)
[
KSK010103
]
[KISUKE] Santoku (chef's knife about 165mm brade, ATS-34 stainless / stainless Warikomi, Red sandalwood Handle)
[
KSK010103
]


Our Selling Price: 49,500JPY (not include VAT & TAX)
[KISUKE] The ATS-34 Santoku Knife has a hardness of around HRC 64, which is almost unheard of in the world, and is a rust-resistant knife made of Japanese traditional "Warikomi".
KISUKE's ATS-34 Santoku Knife is that has a hardness comparable to that of rust-resistant, optimally heat-treated blue paper steel.
The following people are suitable for this knife.
- Professional chefs or those who want the professional tools.
- Looking for special Santoku knife.
- Looking for HRC 64 or higher.
- People who think that Vanadis(ASSAB) and ZDP 189 are excellent steel products.
- People who think that Vanadis(ASSAB) and ZDP 189 are difficult to sharpen.
- Looking for the knife of ATS-34.
- Looking for a kitchen knife that is difficult to rust.
- Looking for a knife that is easy to maintain sharpness.
- Looking for a stainless knife that is easy to cut.
- Knife Mania.
- Kitchen knife mania
KISUKE's ATS-34 Santoku Knives solve the following problems.
(1) Overwhelming sharpness
KISUKE's ATS-34 Santoku Knives have hardness around HRC 64. This is a hardness comparable to optimally heat treated blue paper steel.
(2) Overwhelming sharpness retention period
ATS-34, which is the most suitable knife steel, has excellent wear resistance. Therefore, it is also a big feature that the durability of sharpness is good.
(3) Special sharpening
The blade is completed just by sharpen with a whetstone for a little while. This is amazing. The task is completed in a much shorter time than the ideal heat treated white paper steel knives. This is a completely different feature from the famous knife steel material ZDP 189.
(4) It is hard to rust due to stainless steel
The blade is ATS-34, and the body is SUS stainless steel. It is characterized by being hard to rust because it is all made of stainless steel.
(5) Less usage restrictions
Generally, Japanese kitchen knives get hardness by specializing in cutting conditions and become brittle instead. However, KISUKE's ATS-34 series reversed this common sense. If it is a half frozen food, it can be cut easily and safely.
(6) Rosewood handle and wine red ferrule.
Rosewood has a high density, and it has resistant to rot when touched with water. In addition, the ferrule of the wine red color that has a major impact on the visual appearance of this product is a major feature.
(7) KISUKE made a Santoku under this condition
The shape of this product is Japanese traditional Santoku knife. And it has a Japanese style handle, it is classified as a Japanese Santoku. The edge shape on the tip is manufactured so that it will cut when pulled.
What brings these solutions is KISUKE's heat treatment work and forging work. Normally, a kitchen knife using ATS-34 consists only of it. As many of the people viewing this page may know, except for Honyaki knife, blades made of single steel can not be hardened. Hardening makes it brittle and causes cracking. However, KISUKE's ATS-34 Santoku Knives are able to take out the hardness of the core steel because of the way of making them "Warikomi" by winding the blade ATS-34 with SUS-based stainless steel. The practical hardness of ATS-34 is about HRC 59-61 even with the manufacturer HITACHI, but KISUKE produces numbers around HRC 64 with human work alone. ※ Almost all similar products are clad stamped and rolled at the factory. Most of these HRCs are 59-61. KISUKE forged by his hand.
In addition, winding stainless steel with stainless steel can not be realized by almost all blacksmiths. The reason is the passivation film produced on the surface of stainless steel. Stainless steel is hard to rust because of this passive film, but at the same time, it is extremely difficult to forge multiple stainless steels into one object. However, KISUKE created stainless steel and stainless steel forging work.
Almost all similar products are knives that use rolled and stamped clad material at the factory. Most of these hardnesses are 59 to 61 HRC.
* he above information was written by TETSUFUKU's manager Hiroshi Urata, who reviewed it on the Internet. Please contact us if you have found a competitor using HRC 64 or higher ATS-34. For the moment, I have never seen a product that produces an HRC 64 with the ATS-34. And It has be forged stainless steel and stainless steel with human hands.
What is KISUKE ... The products of KANEMA are based on products that have continued for generations of Manaka family. For a long time, they have been upgrading their products based on customer feedback and their own ingenuity. Among them, the KISUKE brand reflects all the experiences of the fifth generation Shunsuke Mnaka. He has succeeded in forging stainless steel and stainless steel by hand, which is considered to be almost impossible to complete in the world. It is one of the few brands in Japan that is creating new values.
What is ATS-34... ATS-34 is a new kind of stainless steel material developed based on popular silver paper No. 3 among high-grade blade steels manufactured by Hitachi Metals, Ltd. An excellent stainless steel with a hardness of around HRC 59 to 61 and excellent corrosion resistance. It is a stainless steel that is very easy to sharpen.
Applications of this kitchen knife ... Meat, fish and vegetables preparation and cooking.
The shipping will take 15 days. This product can be reserved.
About a maker, MANAKA edges blacksmith and KISUKE (SAITAMA pref)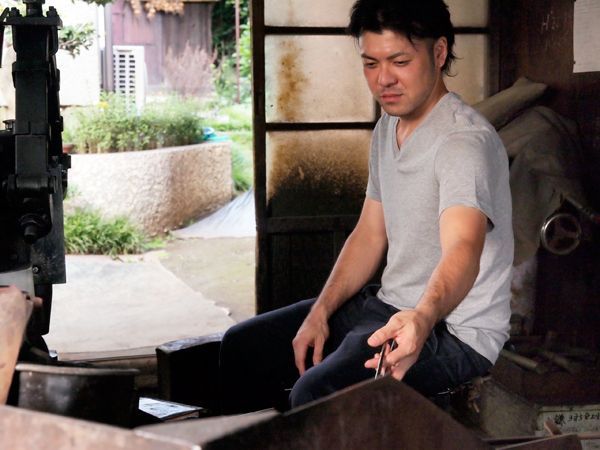 MANAKA is an edged tool blacksmith who continues five generation in Kasukabe-shi, Saitama pref. They are well versed in the production of an edged tool, and is performing reproduction of the farm implements of Kanto (southeast part of Japan), etc. Manufacturing items are kitchen knives, gardening shears, Bonsai items, farm implements, fishing implements, a forest tool, etc.
Their concept is coexistence of sharpness and durability. Many professional farmhouses and gardeners are supporting this concept. KISUKE is a brand that is Shunsuke Manaka of the fifth generation be specially manufactured. He stacked its own research and built up the quality of the new MANAKA. Its products are upgrade of quality.
The notes on use about ATS-34 Santoku 165mm edges [KISUKE]
* Please do not twist.
* Please do not use it for a hard thing. For example, a shellfish, a bone, etc.
* It is difficult to rust. But if rust, please wipe after use well.
* Pleasey a whetstone, if it becomes difficult to cut.
* If edged tool oil is applied, it will last long more.
| | |
| --- | --- |
| Producing district | Saitama, Japan [MANAKA Edged tool Blacksmith] |
| Handedness | both (righthand & lefthand) |
| Full Length | 305 mm =12.01 inch (Since it is handmade, there is an about plus minus 5 millimeters size difference.) |
| Edge length | about 165 mm =6.50 inch (Since it is handmade, there is an about plus minus 5 millimeters size difference.) |
| Brade width | 45 mm =1.77 inch (widest point ) |
| Brade Thickness | about 2.0 mm =0.08 inch |
| Material | SUS stainless |
| Edge material | YASUKI ATS-34 |
| Handle material | Red Sandalwood (Octagon) |
| Goods weight | 155g |
| Packing weight | About 455g (a knife and box are 330g. 125g is packing material) |