[YSUHIRO] Ikenobo Shears (Full length 165mm)
[
OSM010101
]
[YSUHIRO] Ikenobo Shears (Full length 165mm)
[
OSM010101
]
Our Selling Price: 22,000JPY (not include VAT & TAX)
Mr. YOSHINOBU OSUMI follows the form of the father who got the expert's title, and how to build, and this Ikenobo Shears is manufacturing. It is the proof of thing ability that Ikenobo Shears of "YASUHIRO" is put on products offered in the flower arrangement tool store and edged tools store in severe Kyoto above all. Since it is handmade, a lovely sound when it cuts and the form of the made edge has the feature.
These scissors do not choose a user. Also in Ikenobo, the scissors of this size are general size and are used regularly broadly. It grows up to the scissors suitable for a user's motion, so that you use. We are also looking forward to the day when these scissors serve as extension of your hand.
The main use
Living Flowers (IKEBANA)" and "way of flowers (KADO)"
Flower arrangement
It will be necessity about three business day to send.
About a maker, YASUHIRO (Kyoto pref)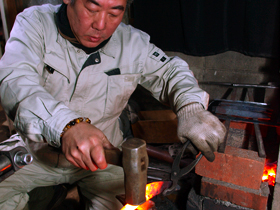 In Japan, it is a blacksmith of the scissors speciality which has already decreased. Also in professional gardeners and flower arrangement lovers, YASUHIRO is a maker known only to insiders.
The founder is famous as an expert of the production of HANABASAMI (Ikebana Shears) who received authorization from Kyoto. Present the second generation and Mr. Yoshinobu Osumi are chosen as the professional gardener as a scissors blacksmith of the production of garden shears.
The notes on use about Ikenobo Shears (Full length 165mm) [YASUHIRO]
* Please do not twist.
* please do not drop.
* Please do not use it except flower arrangement.
* It rusts for a steel part. Please wipe after use well.
* Pleasey a whetstone, if it becomes difficult to cut.
* when frequency in use is low, please wrap in an oilpaper and keep it.
| | |
| --- | --- |
| Producing district | Kyoto, Japan [YSUHIRO Shears Blacksmith] |
| Handedness | righthand |
| Full Length | 165 mm =6.50 inch |
| Edge length | 61 mm =2.4 inch (From the center of a bolt to the edge of a blade) |
| Brade width | 43mm =1.69 inch (The widest point) |
| Edge material | YASUKI steel, White Paper Steel |
| Handle material | YASUKI steel, White Paper Steel |
| Goods weight | 165g |
| Packing weight | About 200g |