Bamboo Hatchet 150mm
[
AJG020102
]
Bamboo Hatchet 150mm
[
AJG020102
]

Our Selling Price: 8,500JPY (not include VAT & TAX)
Bamboo hatchet is not a cutting tool for bamboo. It's a hatchet for dividing the bamboo longitudinally along the fiber. It has a double-edged in order to divide straight. TETSUFUKU think a double-edged is best.
This 150mm size of bamboo hatchet is ideal for work to divide bamboo.And further narrow the thin bamboo to moderate size. Such as accessories of production, it is for the workmanship.
Bamboo hatchet of AJIGATAYA is very easy to use for a variety of ideas have been included. Since the peak of the blade is thicker, it does not become a friction to when it proceeds divide. Also three-dimensional round blade is also easy to divide bamboo.
AJIGATAYA made the blade of moderate weight and excellent rigidity. So the bamboo hatchet is very beautiful.
There is a risk of lack blade if you twisted.
The main use
For felling bamboo.
For dividing bamboo.
For making the material of bamboo work.
It will be necessity about one week to send.
About a maker, AJIGATAYA (NIIGATA pref)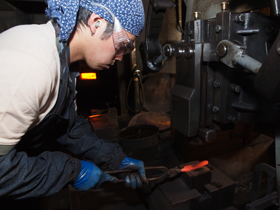 Hinoura cutlery workshop is developing the two brands. One is Ajigataya. It has been making cutlery as a high-quality tool from its inception in 1905. Another one is TSUKASA. It is the name from Hinoura's third generation "Tsukasa Hinoura" bearing the personal name. Their production policy is completely different from other blacksmith. Other blacksmith it will manufacture from their own sense and the proficiency of technology.
But AJIGATAYA had owned the analytical skills in addition to them. They analyze the products by a microscope or hardness meter, And they have continued to improve. It was a fusion of their sense and science. Their products manufactured in the preeminent sense that have been backed by a measurement values.
So TETSUFUKU can be declared great products and very sharp. And any products are beautiful. You can understand our description when you look it in the moment. And, it has a excellent cost performance.
The notes on use about Bamboo hatchet 150mm [AJIGATAYA (Hinoura)]
* Please do not twist.
* Please do not drop
* It rusts for a steel part. Please wipe after use well.
* Please use a whetstone, if it becomes difficult to cut.
* If edged tool oil is applied, it will last long more.
| | |
| --- | --- |
| Producing district | Sanjo, Japan [AJIGATAYA (Hinoura cutlery workshop)] |
| Handedness | both (Righthand is better) |
| Full Length | about 305mm = 12.01 inch |
| Edge length | about 150mm = 5.91 inch |
| Brade width | 36mm = 1.42 inch |
| Brade Thickness | 6.0mm = 0.24 inch |
| Edge material | Yasuki SK-5 |
| Handle material | White oak |
| Goods weight | 340g |
| Packing weight | 410g |