[KONDO] Stone cutting chip (small size)
[
KMF130101
]
[KONDO] Stone cutting chip (small size)
[
KMF130101
]
Our Selling Price: 1,100JPY (not include VAT & TAX)
A place to divide a stone into first is trenched by a diamond cutter. Then, a stone can be broken by inserting and striking stone cutting chips of two or more chips. It becomes the natural broken face.
It is a tool with which stone cutting chips breaks a traditional Japanese stone as well as Stone masons wedges. Those traces can be seen in the castle in Japan, and a temples-and-shrines Buddhist temple.
A suitable trace remains in the slot trenched, and the part which inserted stone cutting chips.
The main use
Stone cutting
For Art (Sculpture), Architecture, Landscape design, Garden, Repair the ruins ,etc.
It will be necessity about five business day to send.
About a maker, Kondo Masonry tools factory (AICHI pref)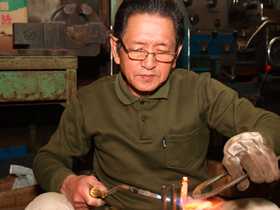 It is product of Kondo stonemason's tools factory in Okazaki City, Aichi Pref known as a town of the stonemasons. Although carbide products is famous now, masonry tool manufacture of the steel which it has continued building from generation to generation is also an expert. Yoji Kondo is the boss and the second of Kondo stonemason's tools factory, and he is an expert that has been worked for 50 years. He is known to Japanese craftsmen handling stones as one of stonemason's tools makers of carbide who are few in Japan now. His technique of brass brazing is highly valued because it is rare technique not only in the world but also in Japan.
The notes on use about Stone cutting chip (small size) [KONDO]
* This is not carbide products but a product of steel. A tip is round to the degree of use. Please purchase steel products after an understanding.
| | |
| --- | --- |
| Producing district | Okazaki, Japan [KONDO stonemason's tools factory] |
| Handedness | both (righthand & lefthand) |
| Size | 60mm*30mm*6mm = 2.36inch*1.18inch*0.24inch |
| Material | Steel |
| Goods weight | 62g |
| Packing weight | 80g |