[KISUKE] Santoku hocho (about 165mm brade, white paper steer No.2)
[
KSK010102
]
[KISUKE] Santoku hocho (about 165mm brade, white paper steer No.2)
[
KSK010102
]

Our Selling Price: 19,800JPY (not include VAT & TAX)
This 165mm edge is the normal size, and fits all works . All usage can be done, such as cutting meat and sliced raw fish and cutting vegetables. This kitchen knife does not choose a right-handed person and a left-handed person for double edge.
This Santoku hocho is the kitchen knife in which the blacksmith made by their own hands. The trace struck to the proof can be grasped. Steel is YASUKI white paper No.2 which is difficult to get it. Shunsuke Manaka created this knife optimally forging which used that special steel. And it was recognized as a product of KISUKE.
The shipping will take 5 days. This product can not be reserved. TETSUFUKU will sell only stock in possession.
About a maker, MANAKA edges blacksmith and KISUKE (SAITAMA pref)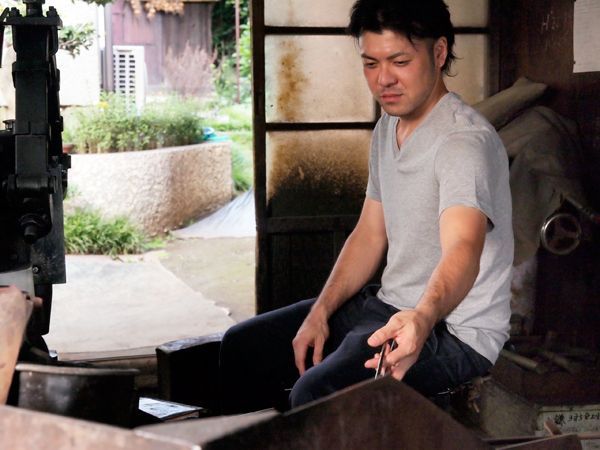 MANAKA is an edged tool blacksmith who continues five generation in Kasukabe-shi, Saitama pref. They are well versed in the production of an edged tool, and is performing reproduction of the farm implements of Kanto (southeast part of Japan), etc. Manufacturing items are kitchen knives, gardening shears, Bonsai items, farm implements, fishing implements, a forest tool, etc.
Their concept is coexistence of sharpness and durability. Many professional farmhouses and gardeners are supporting this concept. KISUKE is a brand that is Shunsuke Manaka of the fifth generation be specially manufactured. He stacked its own research and built up the quality of the new MANAKA. Its products are upgrade of quality.
The notes on use about Santoku hocho 165mm edges [KISUKE]
* Please do not twist.
* Please do not use it for a hard thing. For example, a shellfish, a bone, etc.
* It rusts for a steel part. Please wipe after use well.
* Pleasey a whetstone, if it becomes difficult to cut.
* If edged tool oil is applied, it will last long more.
| | |
| --- | --- |
| Producing district | Saitama, Japan [MANAKA Edged tool Blacksmith] |
| Handedness | both (righthand & lefthand) |
| Full Length | 300 mm =11.81 inch (Since it is handmade, there is an about several millimeters size difference. Please understand the situation. ) |
| Edge length | about 165 mm =6.50 inch (Since it is handmade, there is an about several millimeters size difference. Please understand the situation. ) |
| Brade width | 40 mm =1.57 inch (center point ) |
| Brade Thickness | about 2.0 mm =0.08 inch |
| Edge material | YASUKI White Paper steer No.2 |
| Handle material | Chestnut (Scorched finish) |
| Goods weight | 120g |
| Packing weight | About 320g (There is no packing of a box etc. It protects with shock absorbing material. ) |