[Kisuke] Karikomi Shears (Kanto type, blue paper steel No.2)
[
KSK040101
]
[Kisuke] Karikomi Shears (Kanto type, blue paper steel No.2)
[
KSK040101
]

Our Selling Price: 66,000JPY (not include VAT & TAX)
This Karikomi Shears is Kanto type, No stopper type.
The Kanto type is a little narrow form, when a handle on either side becomes parallel. It is the feature that it can cut powerfully and sharply. Since the edge and the edge slide finely, a bark does not remain. Everyone can cut finely.
After edge overlaps, the crossing edges are the form of "No stopper". In Japan, many professional gardeners have used regularly.
This Karikomi Shears is so amazing and offer wonderful experience. Trees could be modeled in satisfactory form, when you have skill. Since it is a Japanese edged tool, it is the ultimate cutting capability to be realizable.
TOBISHO trains steel very much and is manufacturing this Karikomi Shears. It did not consider profiting but poured in material, technology, and time and effort unstintingly.
Therefore, only tens or not Karikomi Shears can be manufactured in one year. Also in Japan, purchasing is very difficult Karikomi Shears. Many people have seen only Yamagata type.
The main use
Cutting of a tree and a fruit tree leafs & branchs. Please keep in mind this edges is slightly thin.
For Agriculture, Gardening, production of a Japanese garden ,etc.
It will be necessity about three business day to send.
About a maker, MANAKA edges blacksmith and KISUKE (SAITAMA pref)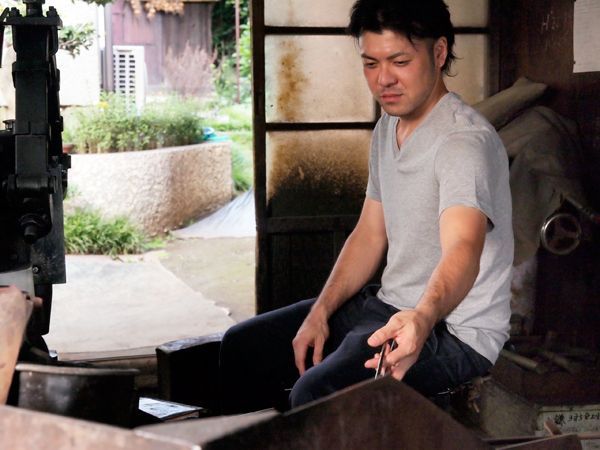 MANAKA is an edged tool blacksmith who continues five generation in Kasukabe-shi, Saitama pref. They are well versed in the production of an edged tool, and is performing reproduction of the farm implements of Kanto (southeast part of Japan), etc. Manufacturing items are kitchen knives, gardening shears, Bonsai items, farm implements, fishing implements, a forest tool, etc.
Their concept is coexistence of sharpness and durability. Many professional farmhouses and gardeners are supporting this concept. KISUKE is a brand that is Shunsuke Manaka of the fifth generation be specially manufactured. He stacked its own research and built up the quality of the new MANAKA. Its products are upgrade of quality.
The notes on use about Karikomi Shears (Kanto type) [KISUKE]
* Please do not twist.
* please do not drop
* Please do not use it for any purpose other than wood branch.
* It rusts for a steel part. Please wipe after use well.
* Pleasey a whetstone, if it becomes difficult to cut.
* If edged tool oil is applied, it will last long more.
| | |
| --- | --- |
| Producing district | Saitama, Japan [TOBISHO] |
| Handedness | righthand |
| Full Length | 850 mm =33.46 inch |
| Edge length | 200 mm =7.87 inch (From the center of a bolt to the tip of edges) |
| Edge material | Yasuki steel, Blue Paper steel |
| Handle material | Magnolia obovata (Length : 600mm =23.62inch) |
| Goods weight | 900g |
| Packing weight | about 2000g (with edge case and shipping box and Including the difference in volume weight ) |