[MANAKA] Yanagiba hocho mini (about 135mm brade)
[
MNK010401
]
[MANAKA] Yanagiba hocho mini (about 135mm brade)
[
MNK010401
]
Our Selling Price: 6,400JPY (not include VAT & TAX)
This 135mm Yanagiba petit knife is a quite small kitchen knife compared with a Japanese sushi cook's Yanagiba. It is suitable for slicing a small size fish. This Yanagiba petit knife is a very easy to use kitchen knife.
This Yanagiba hocho is the kitchen knife in which the blacksmith did completely handmade. The trace struck to the proof can be grasped. It is a kitchen knife a craftsman's skill and efforts can be seen. In MANAKA, in order to use a good price, superfluous packing is avoided.
After receiving an order, in order to produce, it will be necessity about ten days to send.
About a maker, Manaka edges blacksmith (SAITAMA pref)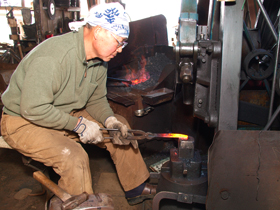 MANAKA is an edged tool blacksmith who continues four generation in Kasukabe-shi, Saitama. MANAKA is well versed in the production of an edged tool, and is performing reproduction of the farm implements of Kanto (southeast part of Japan), etc. Manufacturing items are a kitchen knife, a hatchet, scissors, farm implements, fishing implements, a forest tool, etc.
Their concept is coexistence of sharpness and durability. Many professional farmhouses and gardeners are supporting this concept. Yasuo Manaka of the fourth generation is forging the edged tool today also.
* At this web site, a kitchen knife and scissors are mainly dealt with. Since there is a possibility of being against the law of each country, the big edged tool is not dealt with. If there are those who learn the export method from Japan, please let me know.
The notes on use about Yanagiba hocho mini 135mm edges [MANAKA]
* Please do not twist.
* Please do not use it for any purpose other than sliced raw fish.
* It rusts for a steel part. Please wipe after use well.
* Pleasey a whetstone, if it becomes difficult to cut.
* If edged tool oil is applied, it will last long more.
How to sharpen your Yanagiba (Sashimi or sushi) chef knife on a whetstone.
| | |
| --- | --- |
| Producing district | Saitama, Japan [MANAKA Edged tool Blacksmith] |
| Handedness | righthand |
| Full Length | 281 mm =11.06 inch (Since it is handmade, there is an about several millimeters size difference. Please understand the situation. ) |
| Edge length | about 135 mm =5.31 inch (Since it is handmade, there is an about several millimeters size difference. Please understand the situation. ) |
| Brade width | 25 mm =0.98 inch (widest point ) |
| Brade Thickness | about 2.0 mm =0.08 inch |
| Edge material | high-quality tool steel |
| Handle material | Magnolia |
| Goods weight | 80g |
| Packing weight | About 160g (There is no packing of a box etc. It protects with shock absorbing material. ) |