[MANAKA] Transplant Shovel (BIG)
[
MNK050101
]
[MANAKA] Transplant Shovel (BIG)
[
MNK050101
]
Our Selling Price: 14,000JPY (not include VAT & TAX)
The feature of this product is not just beauty. It has freedom to change the edge shape depending on the soil property, functional shape creates high working efficiency, difficult to adhere to something mud of surface, and so on.
Unlike a knife-shaped shovel, this has a large area of ​​soil scooping. So this is a high working efficiency. It is somewhat heavy, but you can realize big work in a short time.
This product is made of steel, so it is one of the merits to grind edges. In places where there are many gravels, you can work smoothly by rolling the blades. In a place with a lot of mud, it is easier to insert by sharpening the edge.
MANAKA heated the steel and hammer it a lot. Particles of steel are subdivided and aligned evenly. Therefore, the adhesion of mud is small.
Of course, handmade appearance is beautiful.
The main use
Transplanting plants in a garden.
Digging up plant and mountain grasses.
The shipping will take 7 days.
About a maker, MANAKA edges blacksmith and KISUKE (SAITAMA pref)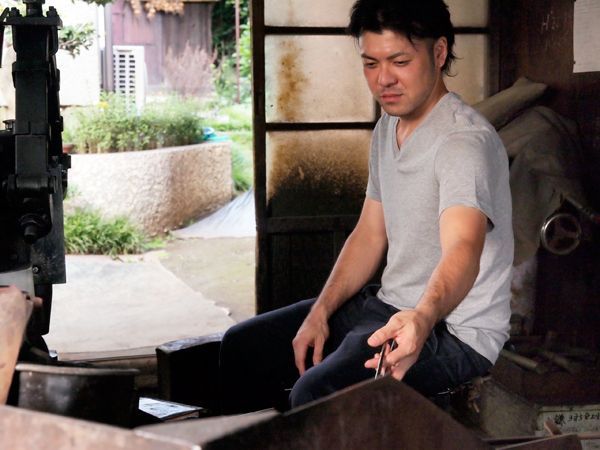 MANAKA is an edged tool blacksmith who continues five generation in Kasukabe-shi, Saitama pref. They are well versed in the production of an edged tool, and is performing reproduction of the farm implements of Kanto (southeast part of Japan), etc. Manufacturing items are kitchen knives, gardening shears, Bonsai items, farm implements, fishing implements, a forest tool, etc.
Their concept is coexistence of sharpness and durability. Many professional farmhouses and gardeners are supporting this concept. KISUKE is a brand that is Shunsuke Manaka of the fifth generation be specially manufactured. He stacked its own research and built up the quality of the new MANAKA. Its products are upgrade of quality.
The notes on use about Transplant Shovel [MANAKA]
* Please do not hit hard.
* It rusts for a steel part. Please wipe after use well.
* Pleasey a whetstone, depending on the soil property.
* If edged tool oil is applied, it will last long more.
| | |
| --- | --- |
| Producing district | Saitama, Japan [MANAKA] |
| Handedness | both |
| Full Length | 500 mm =19.69 inch |
| Edge length | 230 mm =9.06 inch |
| Brade width | 70 - 90 mm = 2.76 - 3.54 inch |
| Brade Thickness | 4mm = 0.16 inch |
| Edge material | Molybdenum special steel |
| Handle material | Oak (Length : 240mm) |
| Goods weight | 875g |
| Packing weight | 1100g |