[MANAKA] Karikomi Shears for Bonsai (160mm edges, 200mm handle)
[
MNK040301
]
[MANAKA] Karikomi Shears for Bonsai (160mm edges, 200mm handle)
[
MNK040301
]
Our Selling Price: 22,000JPY (not include VAT & TAX)
This Karikomi Shears is for Bonsai, Without stopper and Straight edges type. The edge of this product is size as slightly small as 160 mm. 200mm handles are very short, It is suitable for bonsai or the low tree and at a narrow place. For example, cutting the leaf of the azalea.
The Bonsai type is a little narrow form, when a handle on either side becomes parallel. It is the feature that it can cut powerfully and sharply. Since the edge and the edge slide finely, a bark does not remain. Everyone can cut finely.
After edge overlaps, the crossing edges are the form of "No stopper". In Japan, many professional gardeners have used regularly.
This is the Karikomi Shears of Bonsai type which a bonsai lover likes and uses. Yasuo Manaka strikes and fastens edges and is fabricating it in the form which induces cutting capability.
Moreover, grinding is also wonderful, and it is adjusted so that it may bite the first half of cutting, and it may finish cutting smoothly and cleanly the second half.
MANAKA trains steel very much and is manufacturing this Karikomi Shears. Experience and originality and creativity which were accumulated by four generations made this Karikomi Shears.
The main use
Cutting of a low tree and bosai tree. Cutting leafs & branchs. For Bonsai mainly. Agriculture, Gardening, production of a Japanese garden ,etc.
The shipping will take 7 days.
About a maker, MANAKA edges blacksmith and KISUKE (SAITAMA pref)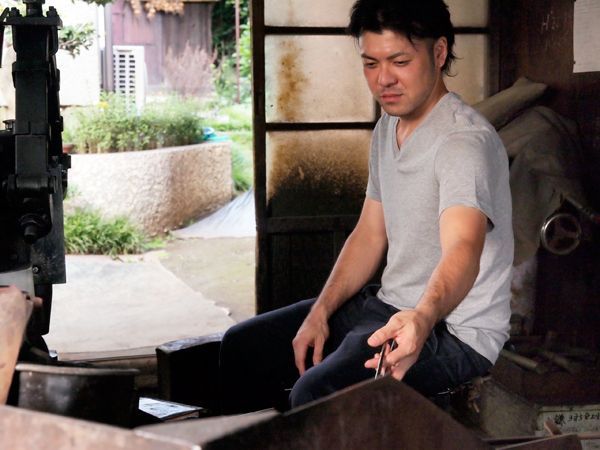 MANAKA is an edged tool blacksmith who continues five generation in Kasukabe-shi, Saitama pref. They are well versed in the production of an edged tool, and is performing reproduction of the farm implements of Kanto (southeast part of Japan), etc. Manufacturing items are kitchen knives, gardening shears, Bonsai items, farm implements, fishing implements, a forest tool, etc.
Their concept is coexistence of sharpness and durability. Many professional farmhouses and gardeners are supporting this concept. KISUKE is a brand that is Shunsuke Manaka of the fifth generation be specially manufactured. He stacked its own research and built up the quality of the new MANAKA. Its products are upgrade of quality.
* At this web site, a kitchen knife and scissors are mainly dealt with. Since there is a possibility of being against the law of each country, the big edged tool is not de lt with. If there are those who learn the export method from Japan, please let me know.
The notes on use about Karikomi shears [MANAKA]
* Please do not twist.
* Please do not use it for a hard thing. For example, a shellfish, a bone, etc.
* It rusts for a steel part. Please wipe after use well.
* Pleasey a whetstone, if it becomes difficult to cut.
* If edged tool oil is applied, it will last long more.
| | |
| --- | --- |
| Producing district | Saitama, Japan [MANAKA] |
| Handedness | righthand |
| Full Length | 400 mm =15.74 inch |
| Edge length | 160 mm =6.30 inch (From the center of a bolt to the tip of edges) |
| Brade width | 26.5 mm = 1.04 inch (The widest point) |
| Brade Thickness | 4mm = 0.16 inch |
| Edge material | High-quality tool steel, Carbon steel |
| Handle material | Oak (Length : 200mm) |
| Goods weight | 475g |
| Packing weight | 800g |