[KANETAKA] Herb clip (Yasuki Yellow Paper steel, Black Finish)
[
KNT010101
]
[KANETAKA] Herb clip (Yasuki Yellow Paper steel, Black Finish)
[
KNT010101
]

Our Selling Price: 10,000JPY (not include VAT & TAX)
It is lovely "Herb clip" which carried out the form of Japanese traditional garden shears. Since steel is trained and built manually firmly, even if it looks small, it sharp very much. Even if compared with full-scale garden shears, there is no portion in which it loses. It is ultimate Japanese Herb clip which conveys the heart of Japan, tradition, and technique.
"Yellow Paper steel" which everyone evaluates is used for steel as steel for tools also in "Yasuki steel" made highest-class. Therefore, it is light, strong and sharp. The more a user uses, the more a color and a feel change according to a user. It can be only your scissors.
Those who purchase as a gift are increasing in number. This is a good which popularity is going up.
The main use
A herb and a flower are cut.
After receiving an order, in order to produce, it will be necessity about ten days to send.
About a maker, KANETAKA (Kyoto pref)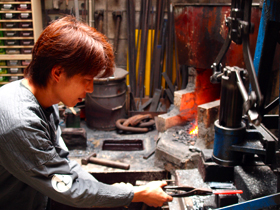 A store and a factory are in front of the head family of the flower arrangement "Ikenobo" which is proud of the membership maximum by the oldest, and the birthplace. Also only by record remaining, it is a long-established store of seven generation at 200 years. Mr. Kazuhiro Yamada of the eldest son inherited Master of sharpen, and Mr. Yoshitaka Yamada of the second son has acted as the blacksmith craftsman.
. Traditional products, such as a Japanese razor, the Ikenobo scissors, etc. which learned the method of making from an expert, are made from KANETAKA. In addition to them, idea goods, such as a herb clip, a pencil sharpener, and a knife that deletes the reed of a wind instrument, are also produced broadly.
The notes on use about Herb clip (Yasuki Yellow Paper steel, Black Finish) [KANETAKA]
* Please do not twist.
* please do not drop
* It rusts for a steel part. Please wipe after use well.
* Pleasey a whetstone, if it becomes difficult to cut.
* If edged tool oil is applied, it will last long more.
| | |
| --- | --- |
| Producing district | Kyoto, Japan [KANETAKA Edged tool Blacksmith] |
| Handedness | righthand |
| Full Length | 120 mm =4.72 inch |
| Edge length | 56 mm =2.2 inch (From the bottom of a bolt to the edge of a blade) |
| Edge material | YASUKI steel, Yellow Paper Steel |
| Goods weight | 70g |
| Packing weight | About 100g |