[Tobisho] Left handed Topiary shears (Double and Straight edge 270mm) limited edition
[
TBS010201L
]
[Tobisho] Left handed Topiary shears (Double and Straight edge 270mm) limited edition
[
TBS010201L
]

Our Selling Price: 17,820JPY (not include VAT & TAX)
It is a rare limited edition left-handed secateurs. The following production has not been determined. Shops selling this product almost does not exist. Without the use of mold, it was completely manufactured in handmade.
Left handed Topiary shears (Double and Straight edge 270mm) of TOBISHO is the feature that a lightweight thing is big, although an edge is long. The design of various parts was improved and it succeeded in the weight saving. The angle which an edge opens is made for these scissors to stop at a moderate place. That is, a grip did not open too much and it has succeeded also in reducing the tiredness of a hand sharply.
Moreover, it is the feature that the scissors of this double-edge are easier-to-use than single edge. However, since it is not strong to the external force pried or twisted, please be careful of handling.
When you cut a thick branch, please cut to pinch and turn a branch at back of an edge as much as possible. Fundamentally, please use for the cutting pruning work and finishing operation to fabricate. A soft sprout and verdure are cut especially or it is fit for the work which arranges shape. Since one hand can be used for organization maintenance when working reaching a stepladder and a tree, cutting work can be performed with the stable posture.
The main use
Cutting pruning work and finishing operation to fabricate.
For Agriculture, Gardening, production of a Japanese garden ,etc.
It will be necessity about three business day to send.
About a maker, TOBISHO (YAMAGATA pref)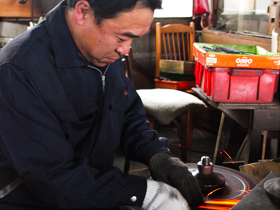 Tobisho is a blacksmith in 200 or more at history. The number of masters is the 8th. In pruning shears, it is the 2nd.
The blacksmith town in Yamagata was built by Yoshiaki Mogami. He is a samurai. Therefore, Yamagata was set to one of the producing districts of a Japanese sword. Then, in Yamagata, since production of the fruit tree prospered, the technology of pruning shears developed.
Also in it, Tobisho has original heat treatment and gloss technology, and is very famous in pruning shears. Many agriculture and the specialist on a gardener are using it.
The notes on use about Left handed Topiary shears (Double and Straight edge 270mm) [TOBISHO]
* Please do not twist.
* please do not drop
* Please do not use it for any purpose other than wood branch.
* It rusts for a steel part. Please wipe after use well.
* Pleasey a whetstone, if it becomes difficult to cut.
* If edged tool oil is applied, it will last long more.
| | |
| --- | --- |
| Producing district | Yamagata, Japan [TOBISHO] |
| Handedness | lefthand |
| Full Length | 270 mm =10.63 inch |
| Edge length | 125 mm =4.92 inch (From the center of a bolt to the edge of a blade) |
| Edge material | KA-70 (Kobe steel) |
| Goods weight | 270g |
| Packing weight | about 370g |